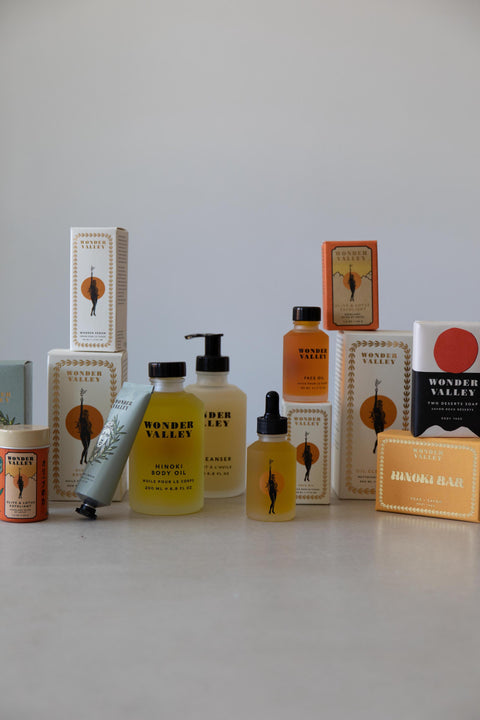 Wonder Valley
WONDER VALLEY
At Wonder Valley, we choose the Good Life and olive oil is at the heart of it.

We produce an extraordinary extra virgin California olive oil, which elevates every meal through its bright, herbaceous, peppery flavor. This olive oil is used as a hero ingredient in our unisex skincare collection, an ancient and beloved beauty staple. We believe in the holistic power of olive oil as a universal life-enriching ingredient and the true Fountain of Youth; a cornerstone of a healthful diet and the key to radiant skin.

We are a husband and wife team, Alison and Jay Carroll. Jay is an artist and creative director with experience in branding, fashion, interiors and editorial. Alison has a background of working for the California Olive Oil Council, where she was responsible for quality control for the state of CA by overseeing a professional taste panel and acting as an educator and advocate for this growing domestic agriculture industry. This led us to start Wonder Valley. We saw olive oil as the perfect cornerstone; it's elemental, timeless, and a universal common denominator. Great olive oil has the power to elevate everyday life and we believe it's the foundation of a healthy lifestyle.
We took a page from our role models, the Nearings, and created our own version of "The Good Life" here in the California high desert; prioritizing health & creative growth and finding a balance of studio work and manual labor, stripping back the excess but finding decadence in our home cooked meals and daily rituals.

Our olive oil is hand-harvested and expertly milled from our groves in Northern California. Wonder Valley olive oil has become the foundation of our desert lifestyle, enriching our recipes and nourishing our skin. Wonder Valley is now for you too, and your far out home.
Welcome to Wonder Valley, Grandeur in Simplified Living.